Are your wisdom teeth causing jaw pain, misalignment, or damage to nearby teeth? Is your teen affected by sudden dental discomfort?
Oral Surgery Associates in Monroe and Ruston, LA, offers wisdom teeth removal—a standard procedure that can relieve discomfort for good.
Our doctors combine advanced techniques, technology, and sedation to make the surgery safe and comfortable for patients of all ages...
"Gifted Oral Surgeons"
What Patients Are Saying
Dr. Geist is truly one of the most gifted oral surgeons I have ever encountered. I very recently saw him to get all of my wisdom teeth removed, and it was one of the best experiences I've EVER had with any dental work I've had to get done, including basic cleanings ... I haven't felt a single bit of pain AT ALL through recovery. The entire process was effortless.
Read the Entire Review on Google
My experience was great! I choose to go to OSA for my impacted wisdom teeth ... I never felt any pain! From the time he started numbing the area, extracting the teeth, and sending me home I was in great hands. The nurses carefully explain how to care for the area while it was healing to avoid any complications. I followed their instructions and never had any swelling or discomfort and even was able to return to work the following day!
Read the Entire Review on Google
Here's How Impacted Wisdom Teeth Can Hurt Your Oral Health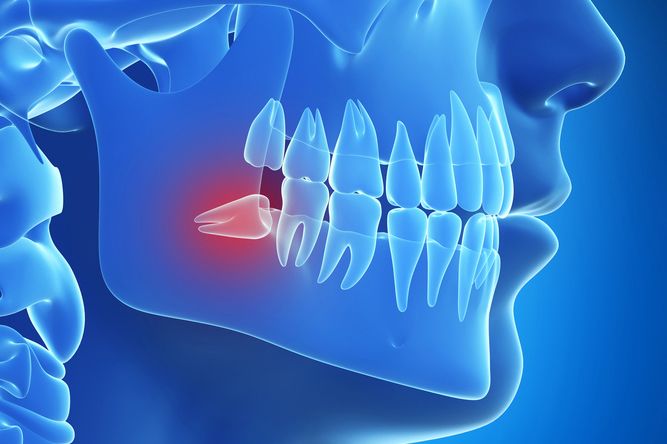 Wisdom teeth, also known as third molars, are located in the back of the mouth. They are typically the last teeth to erupt, usually when a person is in their mid-teens to early-20s.
Most people do not have room in their jaws for these new teeth, so dental problems, such as impaction, can occur. There are different types of impaction. Some cases involve the soft tissue, some involve hard tissue, and others involve both. Simply put, impaction means the tooth is unable to fully erupt from the gums. In some cases, the tooth may remain completely trapped in the jaw.
Why Are Wisdom Teeth Removed?
Our doctors recommend that Monroe, West Monroe, and Ruston, LA, patients undergo an evaluation at an early age, generally during their early to mid-teens. After an oral examination and imaging, one of our doctors can look at the position of your wisdom teeth and determine if there are any current issues or whether they put you at risk of future complications.
Most doctors recommend that men and women have their third molars removed before they reach their late twenties. As you grow older, your wisdom tooth issues can worsen, making treatment more complex and increasing the risk of complications.
Impacted wisdom teeth should be removed to avoid problems such as:
Infection
An impacted tooth may lead to pericoronitis, a localized infection of the gum tissue around the wisdom tooth.
Cysts
Cysts may form inside the jawbone, which can damage the bone and surrounding teeth.
Misalignment
Impacted wisdom teeth can also cause crowding and misalignment, which can be especially detrimental to teeth that have already been moved with orthodontics.
Cavities
Cavities can form in the adjacent second molars if there is insufficient space to clean around teeth.
What to Expect during the Procedure
During a consultation at Oral Surgery Associates in Monroe or Ruston, LA, we will perform an oral exam and conduct imaging to determine if you are a good candidate for treatment. Our practice is equipped with advanced digital x-rays and a 3-D cone beam scanner. Using these technologies, we can gather highly detailed images of your teeth, jawbone, and other tissues and use them to plan your surgery.
If an extraction is recommended, one of our doctors will review what to expect on the day of your procedure:
We work hard to ensure you are comfortable and relaxed during all stages of treatment.
We Accept Insurance & Financing
The cost of your surgery will depend on how many teeth are being extracted and which type of sedation is chosen. We recommend that you contact your insurance provider to determine your coverage. Our friendly office staff will also work with you to ensure you get the most from your benefits.
If you have to pay for any part of surgery out-of-pocket, you can finance the remainder of your costs with CareCredit®.
Following surgery, you can expect to experience some bleeding, swelling, and discomfort. After the local anesthesia wears off, you can take over-the-counter anti-inflammatory medication to control pain and swelling. One of our doctors might also provide you with prescription pain medication. Here are other recommendations to ensure a smooth, successful recovery:
Apply cold compresses to your cheeks to greatly reduce swelling
Refrain from smoking to speed healing
Eat a soft foods diet
Avoid drinking through straws, as this can dislodge the blood clot and cause dry socket
Limit social, academic, and athletic activities for a few days to give your body time to heal