What Is an Oral Appliance for Sleep Apnea?
Obstructive sleep apnea is linked to nighttime snoring and daytime tiredness. The disorder occurs when the airways become blocked during sleep. In response to the blockage and lowered oxygen levels, the patient takes in large breaths, typically resulting in loud snoring. In cases of severe sleep apnea, patients may experience up to 30 of these events an evening. Dentists can offer relief to some sleep apnea patients in the form of oral appliances. The doctors at Oral Surgery Associates can help Monroe and Ruston, LA, patients obtain an oral appliance for sleep apnea.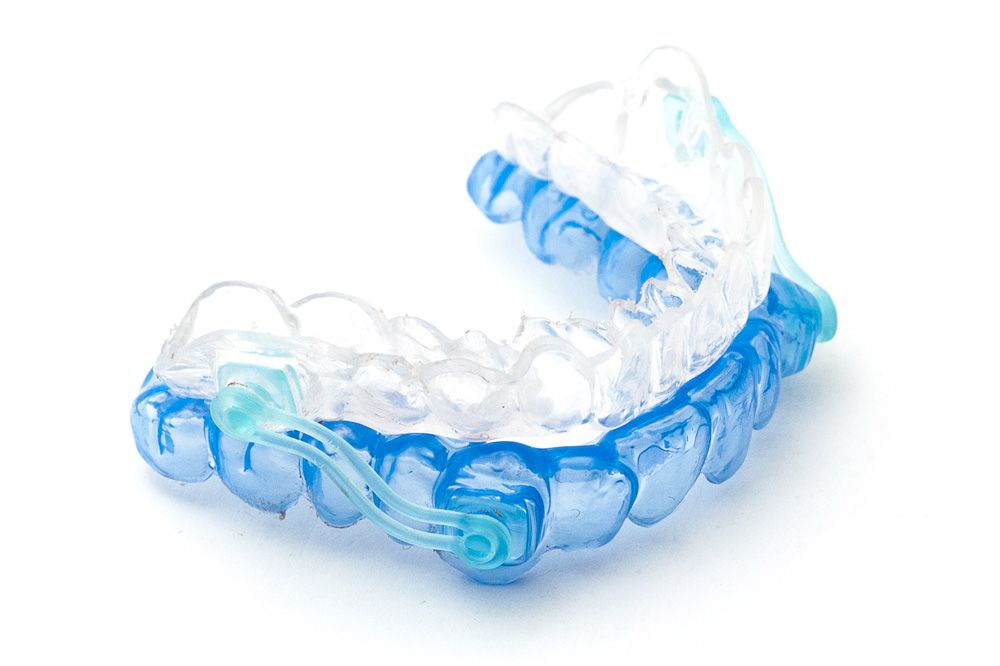 Candidacy for Oral Appliance Therapy
To diagnose sleep apnea, our dentist will perform a complete evaluation. During this assessment, your health history will be discussed in detail. The doctor may also take x-rays or order a sleep test with a sleep specialist. This will help us determine which types of treatments are most suitable.
To decide if oral appliance therapy is right for a patient with sleep apnea, we will take many factors into consideration. These may include:
Condition severity: Patients with mild to moderate sleep apnea tend to respond better to oral appliance therapy than those with severe sleep apnea. Although this does not negate the possibility of oral appliance therapy in those with severe sleep apnea, the oral appliance may be used in conjunction with another treatment.
Other sleep apnea therapies: Patients may be encouraged to try behavioral sleep apnea therapies such as sleeping on their sides or losing weight before receiving a prescription for an oral appliance. If they have already tried such modifications, they may be candidates for an oral appliance or continuous positive airway pressure (CPAP) machine.
Patient compliance: Patients must agree to take care of their oral appliances for sleep apnea therapy. If they do not indicate a willingness to ensure the oral appliances function well, or they are not going to wear them at night, this type of treatment will not be effective.
Insurance coverage: In many cases, patient insurance will cover some or all of the cost for oral appliance fabrication for sleep apnea treatment. Patients who do not have insurance coverage can talk with our financial experts about CareCredit®.
The Oral Appliance Therapy Treatment Process
After determining that a patient is a strong candidate for oral appliance therapy, the dentist will take oral impressions. Our doctors use an iTero® Scanner to generate high-tech impressions without the need for messy putty. The impressions are sent to a laboratory where a custom oral appliance will be made.
When our office receives the final oral appliance from the lab, you will come in for a visit so that the doctor can make sure it fits. Oral appliances used in sleep apnea therapy look like sports mouth guards and orthodontic night guards. However, they serve a different purpose. Instead of simply holding the mouth open, they push the lower jaw slightly forward. This opens the airway, making breathing easier.
Oral appliances offer several key benefits over other sleep apnea therapies and solutions.
Patients take home their oral appliances after the initial adjustment. After a few nights, they can usually tell if the oral appliance fits comfortably and seems to be working. Some of the most noticeable signs of sleep apnea improvement include fewer snoring events, less daytime tiredness, and improved alertness. With at-home care and regular dental adjustments when needed, oral appliances should last many years.
Benefits of Oral Appliance Therapy vs. Other Treatments
Oral appliance therapy for sleep apnea is only one of many types of treatments available to patients with this condition. Oral appliances offer several key benefits over other sleep apnea therapies and solutions. For example, these devices are:
Portable: Oral appliances are discreet and can be taken anywhere the patient goes. The same is not true of CPAP machines.
Quiet: Oral appliances do not make any noise, unlike CPAP machines.
Affordable: The cost to create a custom oral appliance is competitive with other treatments.
Easy to clean: CPAP machines are comprised of many components that must be cleaned to avoid dust and bacteria build-up. Oral appliances are easy to maintain.
Non-electric: Oral appliances for sleep apnea require no energy to work.
Comfortable: Since oral appliances are adjusted for optimal fit, they are generally comfortable to wear during sleep.
Improve Your Breathing and Sleep
If you have been diagnosed with sleep apnea, or think you may have this condition, send our office a message or call Oral Surgery Associates at (318) 388-2621. Our doctors will be happy to discuss oral appliances and other sleep apnea treatment options with you.