Preserve the Health of Your Smile
with Wisdom Tooth Removal
Wisdom teeth can cause several complications for some patients. Our experienced oral surgeons, Dr. Eric Geist, Dr. Matthew W. Fowlkes, and Dr. Nick Gregory are experts in wisdom tooth removal. We combine years of experience with effective anesthesia and sedation, which allows us to perform quick and comfortable extractions. If you or your teen are considering the procedure, one of our doctors can determine whether wisdom tooth removal is needed during a consultation at either our Monroe, LA or Ruston, LA practice.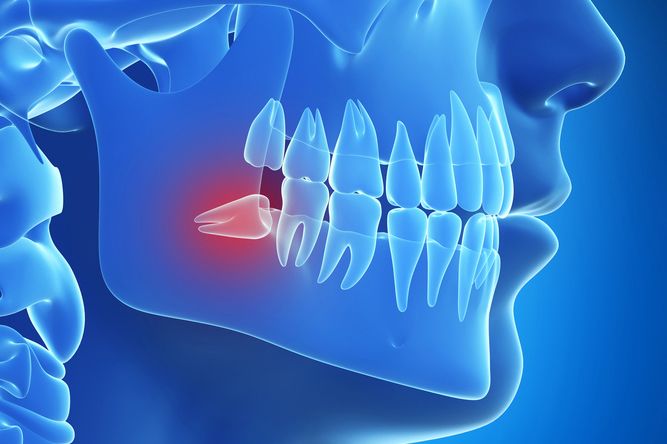 What Are Wisdom Teeth?
Wisdom teeth, also known as third molars, are located in the back of the mouth. They are typically the last teeth to erupt, usually when a person is in the mid-teens to early-20s. Most people do not have room in their jaws for four wisdom teeth so problems, such as impaction, can occur. There are different types of impaction, involving the soft or hard tissue, or both. Simply put, impaction means the tooth is unable to fully erupt from the gums and in some cases, it may remain completely embedded in the jaw.
Why Are Wisdom Teeth Typically Removed?
Our doctors recommend that patients undergo an evaluation at an early age, generally during the early to mid-teens. After an oral examination and taking x-rays of the mouth, your doctor can look at the position of your wisdom teeth and determine if there are any present or potential complications.
Our doctors recommend that patients undergo an evaluation at an early age, generally during the early to mid-teens.
Impacted wisdom teeth can cause a number of problems. A patient may develop pericoronitis, a localized infection of the gum tissue around the wisdom tooth. Cysts may form inside the jawbone, which can damage the bone and surrounding teeth. Impacted wisdom teeth can also cause crowding and misalignment, which can be especially detrimental to teeth that have already been moved with orthodontics. Additionally, adjacent second molars can form cavities if there is insufficient space to clean around the wisdom teeth.
The optimal time to remove wisdom teeth is before a patient is in his or her late twenties. After that time, treatment can be more complex and result in a greater risk of complications. Treatment of these complications can also be more difficult than with younger patients.
What to Expect During the Procedure
Depending on the type of sedation your doctor recommends, you may be instructed to fast before your procedure. Once you are made comfortable, your doctor will remove the wisdom teeth, in some cases breaking them into pieces for easier removal. He may need to incise the gums and remove pieces of bone to access the teeth. Once the extractions are complete, he may apply sutures. Gauze will be placed over each extraction site to control bleeding.
The actual procedure will take about 30 to 60 minutes, and you will need to stay in the office for a short period of time afterward. It is essential that you have someone drive you home and stay with you for the remainder of the day.
Recovery and Aftercare
Following surgery, you can expect to experience some bleeding, swelling, and pain. After the local anesthesia wears off, you can take over-the-counter anti-inflammatory medication to control pain and swelling. Your doctor might also provide you with prescription pain medication. Cold compresses can greatly reduce swelling. You should refrain from smoking, eat a soft diet, and limit social, academic, and athletic activities for a few days to give your body time to heal.
Schedule an Evaluation
To schedule a consultation for you or your child, contact our practice today. Our doctors can quickly determine whether wisdom tooth removal is recommended.