Restore Dental Implants Candidacy with Bone Grafting
If you have experienced bone atrophy following tooth loss, you may require a preliminary sinus lift or bone grafting procedure to restore your eligibility for dental implants. After tooth loss, your jawbone naturally begins to recede, as it does not receive the vital stimulation it requires. However, in order to replace missing teeth with dental implants and restorations, you must have enough jawbone tissue to provide a base for implant posts. To determine if you require a prerequisite procedure, our doctors at Oral Surgery Associates near Monroe, LA, can evaluate the structure of your smile using advanced technology. Your doctor can then design a customized treatment plan, tailored to your unique needs and goals.
Jawbone Recession
After tooth loss, your jawbone may begin to deteriorate. Normally, your tooth roots stimulate your jawbone when you eat. However, after teeth are lost, the jawbone no longer receives the stimulation it needs, and the bone can begin to atrophy. In order to be a candidate for dental implants, you must have sufficient bone tissue to support implant posts. Otherwise, your implants may be compromised, or fail altogether. To restore your eligibility for treatment, we can perform a preliminary bone graft or sinus lift.
What to Expect during the Procedure
During bone grafting, we can transplant bone into the empty tooth socket, restoring its natural structure. We can use bone from another area of your body, donor bone, or synthetic material, depending upon your needs. After harvesting the tissue, we can make an incision in the gum line at the site of the missing tooth. We can then place and secure the bone, before closing the incision with sutures. Over the next three to six months, the bone will fuse with surrounding tissue, creating a strong foundation for dental implants. Once your bone has fully healed, you can return to our office for your implant surgery.
In order to replace missing teeth with dental implants and restorations, you must have enough jawbone tissue to provide a base for implant posts.​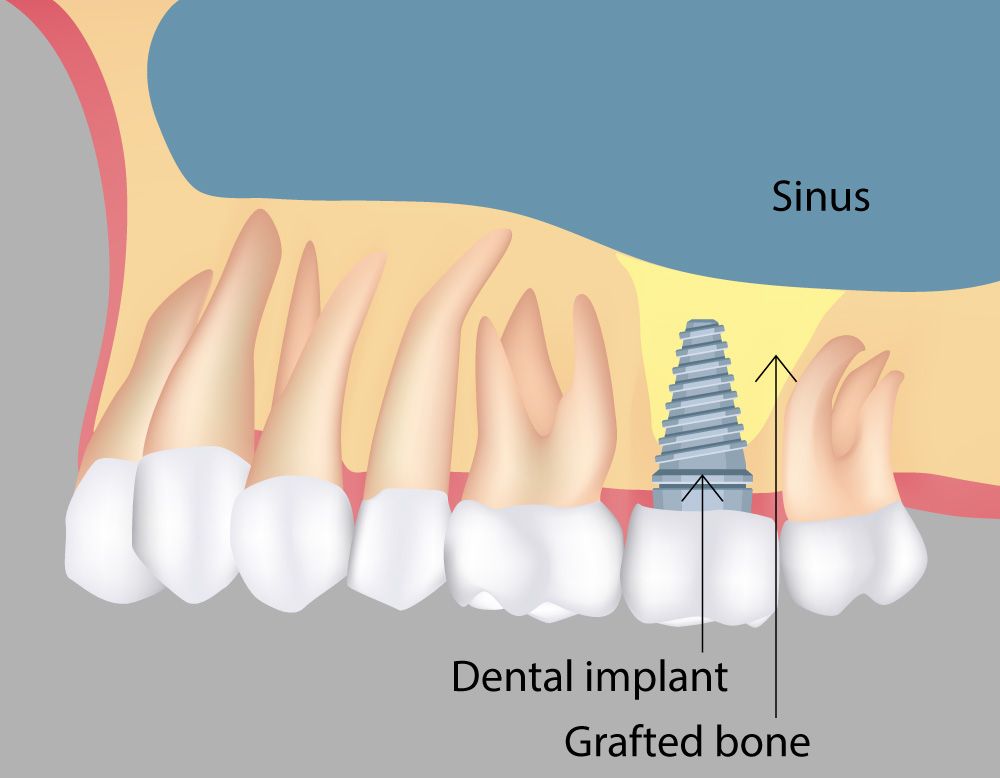 Sinus Lift Surgery
If you do not have sufficient space for implant posts, we may recommend a sinus lift. During treatment, we can lift the sinus membrane and place harvested bone tissue between the sinus cavity and upper jaw. This treatment creates adequate space for dental implants while ensuring you have enough bone tissue to support the titanium posts. The recovery process after a sinus lift is typically longer than that of a bone graft, often lasting six to nine months.
Recovery after Surgery
After surgery, it is important to follow our at-home care instructions to ensure a smooth recovery. You should refrain from touching the wound or eating any sharp foods that can disrupt the surgical site. You should also avoid rinsing for 48 hours, so as not to dislodge the blood clot. If you have undergone sinus lift surgery, you should also refrain from putting any pressure on your nasal cavity. Do not blow your nose or fly in a pressurized aircraft until cleared to do so.Throughout recovery, you should remain hydrated and maintain a good oral hygiene regimen. If you have additional questions about your recovery, our team would be happy to address them during your private consultation.
Contact Us for a Consultation
If you have been told you are not a candidate for dental implants, contact us today online to find out if a bone graft or sinus lift is right for you. You can also call our practice at (318) 388-2621.